A study showed that only 44 percent of cancer patients learned cancer-related information from health experts.
The Korea Society of Medical Oncology (KSMO) and the Korea Cancer Study Group held a press conference to celebrate the fifth day of anti-cancer treatment at Andaz Hotel Seoul Gangnam on Wednesday and announced the results of social listening data analysis.
KSMO has designated the 4th Wednesday of November every year as "Anti-Cancer Treatment Day" and held related events to help people understand chemotherapy properly.
Social listening refers to activities that quickly and extensively reveal the raw information reported by social media users. The information helps experts or the government to respond appropriately on the topic, design appropriate messages in advance and disseminate them through appropriate channels.
According to the two associations, they collected and analyzed 169,575 mentions of three keywords — cancer, cancer treatment and patient management — on online social media platforms, including Naver, Daum and YouTube, over the past year.
Of the 1,661 cases of cancer patients who mentioned where they receive cancer-related information, only 44 percent of patients received cancer-related information from physicians, followed by other patients (24 percent), online communities (18 percent), and YouTube (14 percent). .
"In most cases, the information was obtained from experts with specialized knowledge," said Lim Jo Han, a professor of hematology and oncology at Inha University Hospital. "However, there have been many cases where patients received practical information and psychological comfort from other patients."
In particular, Lim added, there was no case where the information was obtained through official cancer websites, such as the National Cancer Information Center.
Lim stressed that relevant academic societies need to work harder to spread such official channels.
The study also highlighted the difficulties that cancer patients experience during treatment after diagnosis.
After analyzing 20,899 cases of mentioning the difficulties experienced by cancer patients, the study found that physical and pathological difficulties accounted for the most cases, at 52 percent, followed closely by emotional difficulties at 42 percent.
"Emotional difficulties showed up in various aspects throughout the treatment process from the outset, but in general, emotions such as fear and anxiety were constantly referred to," Lim said. "Fears of recurrence and fear of death were also reported in the event of exacerbation in the overcoming phase after treatment."
In contrast to the importance of emotional difficulties, Lim stressed that there is little mention of emotional management to resolve them.
"Only 9 percent of the 16,743 patient management-related comments mentioned emotional management to resolve such difficulties," Lim said.
Lim particularly explained that the rate of effective coping with emotional difficulties through professional help, such as psychological counseling and taking antidepressants, was very low.
"Emotional difficulties are found not only in cancer patients but also in cancer survivors," Lim said. "The emotional difficulties of patients who are at the crossroads between life and death are well recognized in the medical field, and it is a part that needs to be carefully attended to in the future."
Lim added that since patients' mental health influences the actual treatment effect, emotional care must be emphasized from a multidisciplinary perspective such as psychiatry.
To this end, other physicians participating in the press conference proposed improving the system of payment for psychotherapy for cancer patients and changing the social consensus toward receiving psychotherapy.
"Korean patients are reluctant to seek psychological treatment, and this reluctance often leads to refusal to receive psychological help," said Professor Hyo Suk-jae, from the Department of Oncology at Dong-A University Hospital. Also, most university hospitals do not have a realistic system for treating cancer patients effectively.
Hugh added that along with improving awareness of psychiatric care, the system must be improved so that medical institutions can also receive multidisciplinary care.
Professor Kim In Ho of the Department of Oncology at Seoul St. Mary's Hospital agreed.
"The reality is that institutional policies to resolve the emotional difficulties of cancer patients are not available," Kim said. He added, "Because there are limitations to solving such problems in the clinical field, it is necessary to prepare emotional management policies or support psychological care for cancer patients at the governmental and social level, such as improving the system of payments for psychological care for cancer patients."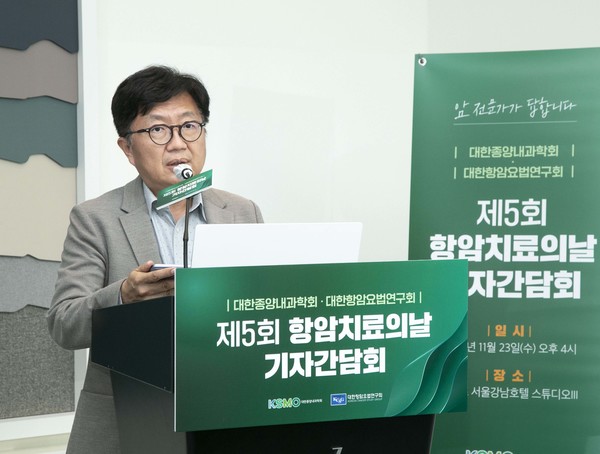 Meanwhile, KSMO President Ahn Joong-bae stressed the importance of the study.
"There is a lot of information about cancer treatment on the Internet, but it is difficult to filter it accurately, which makes it difficult to receive appropriate treatment," Ahn said. "Therefore, it was useful to get a glimpse into patients' actual perceptions and concerns."
#cancer #patients #medical #expert #advice #politics #기사 #본문