Today's recipes are in a delightful seasonal cleanser, but they mainly speak of summer, although they are made with ingredients that won't cause guilt when you buy them in the colder months. This makes it perfect to have in your arsenal when the weather turns. It's a celebration of deconstruction – not in the modern sense of the kitchen, where perfectly sensible things are deconstructed into a series of dots and towers (plates like these speak of much-sniffed food). Knife and fork interference is inevitable, so tampering should be welcomed; There's a positive to the way disassembly is the last act of building—hovering together mounds of capers, beetroot, fresh cream and leaves, or plucking meat from rabbit bones for the delight of leftovers. These dishes have an entry St. John'sExecutive Chef, Jonathan Woolwayand both have the kind of cool elegance you can expect in our new venture, St John Marylebone, which opens later this month.
Braised rabbit, mustard and bacon
Any leftovers can be plucked from the bone and served the next day with tagliatelle and a splash of chopped tarragon.
to equip 10 minutes
cook 2 hours and 20 minutes
serve 6or 4 ardent rabbit lovers
1 tablespoon duck fat or lard
Sea salt and black pepper
2 wild rabbits (about 600g each), both attached to two shoulders, two legs and two pieces of saddle (farmed rabbits make a good alternative if you lack a gun or reliable supplier)
1 kg smoked baconcut into creamy pieces
18 leekspeeled
12 garlic clovespeeled
3 bay leaves
1 handful sageLeaves plucked and coarsely chopped
500 ml dry apple juice
chicken stock – You will need enough to fill an oven dish
2 tablespoons healthy Dijon mustard
4 tablespoons healthy fresh cream
Preheat oven to 180°C (160°C fan)/350°F/gas 4. Put the fat in a skillet over medium heat, season the rabbit, then brown it completely, in batches if necessary. Transfer the roasted rabbit to a baking dish that is deep enough and wide enough to hold everything later.
In the same skillet, brown the bacon, then add the peeled shallots and whole garlic, letting them soften without coloring, then insert the bay leaves and sage into the pan. Put everything around the rabbit in the oven dish.
Put the ovenproof dish on the stove, bring everything to a simmer, add the apple juice and reduce by half. Add just enough stock to cover the rabbit, being careful not to flood the nest.
Whisk together mustard and fresh cream in a small bowl. Using a little of the browning liquid, loosen the mustard mixture, then flip it all over the roast. Cover with tin foil and roast for about 2 hours or until tender and tender.
Beetroot, red onion, red cabbage, fresh cream and chervil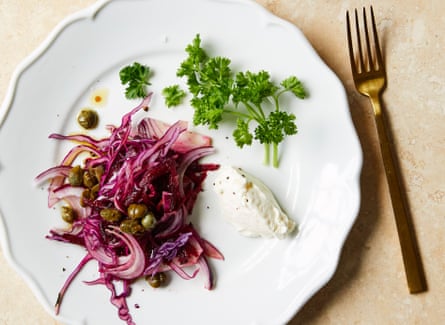 Often a file is displayed The reality (Inevitable) On the plate, weave of ingredients in which your only role is to make a mess with a knife and fork. Well, this is an authority that welcomes the tinkering process.
to equip 5 minutes
association 5 minutes
serve 6
for power
2 raw beetsFinely peeled and grated
¼ raw cabbagethe core is cut and discarded, the rest very thinly sliced
1 small red onionpeeled, halved from top to bottom and thinly sliced
6 healthy dollops of fresh cream
2 good bouquets of chervilOr a handful of fresh dill leaves
for seasoning
Extra virgin olive oil healthy spots
A gesture of balsamic vinegar
1 small handful of extra fine capers
Sea salt and black pepper
Make the sauce by mixing everything in a bowl. Toss the three red ingredients into the sauce, then place a scoop of this red mixture on each of six bowls.
We nestle a pile of fresh cream beside it, as if the two ingredients are good friends, not on top of each other as if they were lovers. Finally, place a piece of dill (or dill) in a friendly manner next to the other ingredients and serve.

#Fergus #Hendersons #Recipe #Braised #Rabbit #Beetroot #Salad #food